Is it possible for naughty tasting cakes and desserts to be good for you?
Yes, yes it is when Rowie Dillon has anything to do with it!
Rowie Dillon has a passion for great food, culinary design and is protective about her diet. As an experimental cook, Rowie investigated ways of dealing with her body's digestive intolerances, and in 2011 created 'Rowie's Cakes' – a kitchen where everything is 100% gluten, yeast and wheat free- and also 100% delicious!
Ahead of Rowie's upcoming 'Cuisinart by Rowie Dillon' Cooking Masterclass at The Hyperdome on 22 April, we caught up with her to find out exactly what inspired her to start a gluten free venture, and what we can all expect at the masterclass.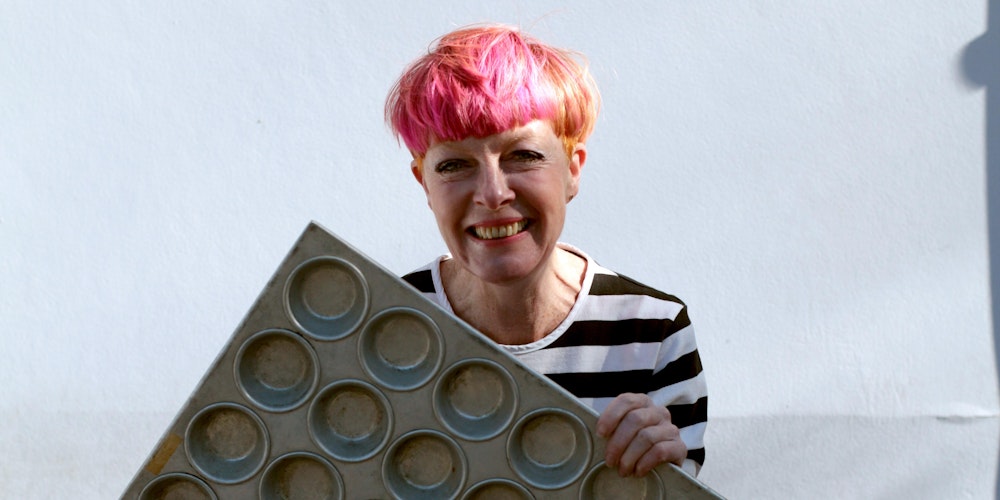 Rowie, tell us a bit about yourself and what you do?
I have a business called Rowie's Cakes – the kitchen that cooks gluten, yeast and wheat free, and I also have two cookbooks.
I am known as Australia's Queen of gluten free cooking and baking, and am very respected and industry recognised, with Rowie's Cakes having been around for 16 years.
Everything that I produce is very far from bland or boring, and you don't have to be gluten intolerant to enjoy my food.
My range of products are available in Woolworths, David Jones, About Life, as well as on-board Qantas, Tiger Air and Emirates, and can be found in some of Sydney's finest hatted restaurants. I have also baked for many celebrities and politicians, and appear on TV and radio and contribute to magazines regularly.
And you're an An Australian Ambassador for Cuisinart? Tell us more about that
I am really honoured to be the Australian Ambassador for Cuisinart, and am working with them on promoting their new Cuisinart Precision Stand Mixer that is just launching into the marketplace.
I think it's a fantastic product, giving kitchen appliances a bit of a shakeup. The Stand Mixer is affordable and isn't clunky, making it awesome to work with. It also has fantastic attachments, and is really versatile. The machine is really sleek and refined as well, and is really beautiful!
I really looking forward to using it in my masterclass at The Hyperdome where I'll demonstrate how to mince your own beef and vegetable patties, make your own pasta at home, create my own delicious lime and coconut cakes and make a sorbet using fruit.
Tell us about your gluten free journey, how did it all begin?
It all started with my own curiosity and my own need, as I myself am gluten intolerant.
I had an accident a few years ago, which required me to take three months off work. During my time off I had plenty of time to bake and create cakes, and it got me thinking about how many cakes I could sell each week!
Being a creative visualiser, I decided to write a story about the kitchen that baked gluten, wheat and dairy free, and also looking into developing different flavours for a treats box. When I returned to work (just after September 11) I asked my colleagues "do you think people will still eat cake"? To which he replied, "of course!", and that's when I knew this was the right venture for me.
Not long after that I was made redundant from my job, and my boss offered me the opportunity to stay for a couple of months before I found another position, however I declined the offer. That day I left work, drove down to Balmoral beach in Sydney, and walked into the water and threw my shoes as far as I could throw them. Then the following day I drove from one side of Sydney to the other to a place that made cake boxes, came home and painted a big R, which is my logo, and I cut it out of the cake box – and the rest is history.
So apart from Rowie's Cakes, what have you been working on?
I have two cook books, titled "The Power of Flour" and "Indulge", and am also in the process of writing my third.
As well as the Cuisinart Ambassadorship, I also do a lot of work with The Australian Government and their Women in Global Business program, and also work closely with Diabetes NSW.
I also enjoy working with kids in the kitchen. I have a good rapport with children, and love educating them about awesome food.
And finally, I am a strong advocator of an initiate called Females in Food, which is basically a community for women in food business.
What can attendees expect from your cooking demonstration at The Hyperdome? What can they look forward to?
They can look forward to knowing a lot more about the Cuisinart Stand Mixer and how it sets itself apart from all the other products and brands in the marketplace. Attendees can look forward to some awesome gluten free tips, some beautiful and unbelievably decadent cake, as well as gluten free pastry, sausage rolls, and a really nice tomato tart.
Everyone will receive a recipe book as well, and there will be cookbooks available for purchase.
I am super excited to be coming to Canberra, and am really looking forward to sharing the Cuisinart word.
What is your favourite recipe of yours?
Can I pick two?
My first would be my Lime and Coconut Almond Cake. My second choice would be from my latest cookbook, and is a decadent gooey chocolate cake that's made with amaranth flour – it's so delicious!
You can see Rowie Dillon, Australia's Queen of gluten free baking and cooking at Centre Court in the Hyperdome on Saturday 22 April. Head here for more information: https://www.facebook.com/events/315640855518549/
You can also follow Rowie on both Instagram and Twitter, or check out her website!